Niantic Main Street
Santa Claus is coming to town for the 12th Annual Niantic Holiday Stroll!
Come kick-start your holiday season in Niantic at the 12th Annual Niantic Main Street Holiday Stroll. This family-friendly day features horse-drawn carriage rides, complimentary hot cider and cocoa on the green, a "Snow-Flake Drop" featuring discounts and giveaways at local shops and restaurants, and last, but not least, the arrival of Santa on a shiny red fire truck just in time for a tree lighting ceremony beginning at 5:00 pm on Liberty Green in the heart of Niantic Village.

SCHEDULE of EVENTS and ACTIVITIES:
3-7 p.m. Store & restaurant specials
3-7 p.m. Complimentary horse-drawn carriage rides
3-7 p.m. DJ Chris Turkington on the Liberty Green
3-7 p.m. Heritage Properties' Toys for Tots Drive on Liberty Green
3-7 p.m. Children's arts & crafts at the Police Department with East Lyme Youth Services
3-4:30 p.m. S'more station at Berkshire Hathaway HomeServices New England Properties
3-4:30 p.m. Letter writing to Santa at the Children's Museum of SECT
4-5 p.m. Holiday favorites sung on the Liberty Green
5:00-5:30 p.m. Countdown to the tree lighting / Snowflake Drop / Arrival of Santa
5:30 p.m. Visits with Santa and letter delivery

Children can bring their yearly letters and wish lists to Santa for bringing back to the North Pole, or they can stop in to the Children's Museum to craft their letter. Visits with Santa are free; parents are encouraged to bring a camera to capture the moment.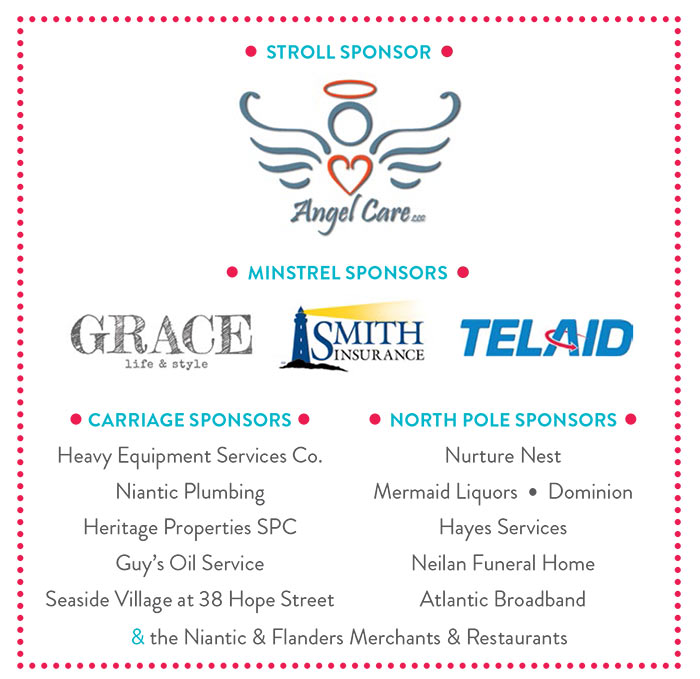 Click here to sign-up for our e-newsletter and receive updates from Niantic Main Street.
Connect with us: Facebook & Twitter

***

The Niantic Main Street Organization
The Niantic Main Street (NMS) organization is a 501c (3) not-for-profit (tax exempt) organization and a Non-Designated Member of the Connecticut Main Street Center. Comprised of all volunteers, the group is made up of a Board of Directors and various volunteers from within the community of East Lyme and the region. If you would like to volunteer, please email us at: NianticMainStreet@sbcglobal.net
Our Mission and Vision
The mission of NMS is to help promote and implement downtown revitalization efforts in the commercial centers or villages of Niantic and Flanders, in the Town of East Lyme, Connecticut using recommendations in the April 1997 East Lyme Charrette Report and incorporating best practices including the comprehensive approach of the Connecticut Main Street Program. The vision of NMS is to help create an inviting seaside village easily accessible by car, foot, boat and/or train. It is a wonderful place to live, work and play, and a place where residents and visitors can gather for specialty shopping, creative entertainment and arts, specialty dining, and water activities within a village that has recaptured its historic past.
Our Four Step Approach
NMS adheres to the National and Connecticut Main Street's Four Step Approach:
Step 1 ~ Organization – By focusing on consensus and cooperation, we have helped build a framework for sensible, community-driven programming – matching our community's assets to its potential.
Step 2 ~ Promotion – By enhancing the image of our downtown through retail promotions, special events and branding. Increasing the social value of our downtown will increase the economic value of our community.
Step 3 ~ Design – By improving the physical value and appeal of downtown through both new construction and rehabilitation of historic and under-utilized buildings. We encourage design of public spaces for walking and gathering.
Step 4 ~ Economic Restructuring – By increasing the economic value by encouraging diversity among current and new businesses suitable to the unique needs of a particular marketplace.
Our History
In 1997, East Lyme residents and business people successfully collaborated with the Yale School of Urban Design to create a vision for a more lively and prosperous community. Following the study\'s recommendation, Niantic Main Street was created and tapped into the expertise of state and national revitalization experts (i.e., the Connecticut Main Street Center and the respected National Main Street network). With an America the Beautiful grant, Niantic Main Street created a Master Streetscape Plan with input from design specialists. Based on Niantic Main Street\'s work, the East Lyme planning department applied for and secured a state grant that funded over 61% of the nuts and bolts of basic construction. Niantic Main Street help raise additional funds for special materials that has helped make the difference between a good project and a great project: new streetlights, trees that are tolerant of drought and salt, curbing, a bicycle parking area, and both crosswalks and sidewalks that are accessible to families with strollers and those who are handicapped.
Niantic Main Street Today
Look up, look down and look around. In 2010, Niantic Main Street saw the fruits of their labors with new sidewalks, new trees, new streetlights, new pavers, new curbs, new crosswalks and new flowerpots. And lots and lots of people to thank. But we are not done yet. The initial phase has been funded with a state grant that was combined with private contributions raised by Niantic Main Street for a total of over $500,000 for the project. While the town pursues additional grants from the state, Niantic Main Street continues to seek contributions for this project that has restored Niantic to its historic beauty as one of Connecticut's only waterfront downtown destinations.

And the names? The names of friends, neighbors and businesses rest by the trees and on the streetlamps. By the crosswalks and on the flowerpots. These are the names of our contributors who committed to the project when the streetscape was only a vision. Now it is a reality. Your name can be added to the list of people who love Niantic. There are additional naming opportunities as the project proceeds.
Want to Help Continue the Streetscape

?

Opportunities for recognition of a donation continue as the project rolls down the street. Choose from the following streetscape elements:
Handicapped/Stroller Ramps

Bluestone Accents for Sidewalks
These naming opportunities allow individuals, businesses and organizations to show their support for Niantic or honor a loved one with this special gift to the town. Look for bricks engraved with names along the sidewalks. And in the coming weeks, notice as plaques are installed on the streetlights which have just recently lined Main Street. Niantic Main Street thanks its contributors and welcomes donations of any amount toward the streetscape project or the Niantic Main Street organization. For additional
information regarding sponsorships or naming opportunities please download our Donation Form or
call Niantic Main Street at (860) 739-2550 and a volunteer will be in touch with you.
Board of Directors
Dan Walsh, President
Sue Kumro, Vice President
Terri Salas, Secretary
Teri Smith, Treasurer
John Schweizer
Dave Labrie
Rosemary Vann
Carol Kruse
Mark Nickerson, Ex-Officio
Advisory Board Members
Candy Shapiro
Pauline Lord
Richard Gada
Sonya Hoisington
Rob Waller
Colleen Gresh
Niantic Main Street is a nonprofit, tax exempt (501)(c)(3) organization.
Your gift is tax deductible to the fullest extent of the law.
We've made a ripple.
Help us make a splash!
Downtown Niantic Market Niche Strategy Report (April 2005)